NYPD Catalytic Converter Program
Hello Residents,
The NYC Police Department is hosting the CATGUARD Program on July 16, 2022, at the 112 Precinct.
Residents are encouraged to protect their catalytic converters from being stolen.
The program runs from 8am – Noon at the precinct, located at 68-40 Austin Street, Forest Hills NY, 11375.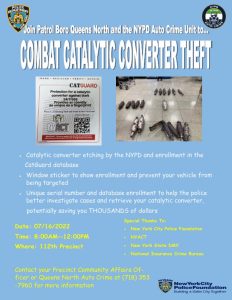 Past BST DPS Notices and Recommendations:
CATALYTIC & AIRBAG THEFT PREVENTION